Women's MVP--Maura Linde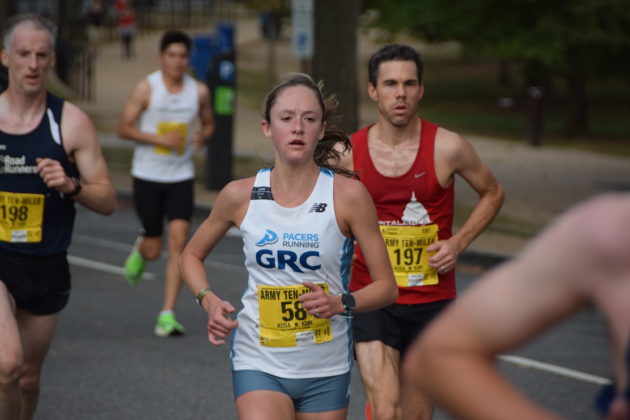 Photo by Run Washington - Charlie Ban
Maura started 2019 with a bang by qualifying for the Olympic Trials Marathon in Houston, running 2:44:26 in her first serious attempt at the distance. Maura's performance is even more impressive given that she had a stomach virus the week of the race and couldn't keep food down until 24 hours before the gun went off. After a quick turnaround from Houston, Maura had an excellent track season, placing second in the Penn Relays Olympic Development 10,000 in 34:26, which is third on the GRC all-time list, and running a big PR of 4:32.85 in the 1500, which is fourth on the GRC list. Maura kept the momentum going in the fall, running a huge 10 mile PR at Army of 57:00, and a road PR of 27:22 for 8k, both of which are second on the GRC list. Maura finished the year with a strong 50th place at Clubs XC.
Men's MVP--Dan Meteer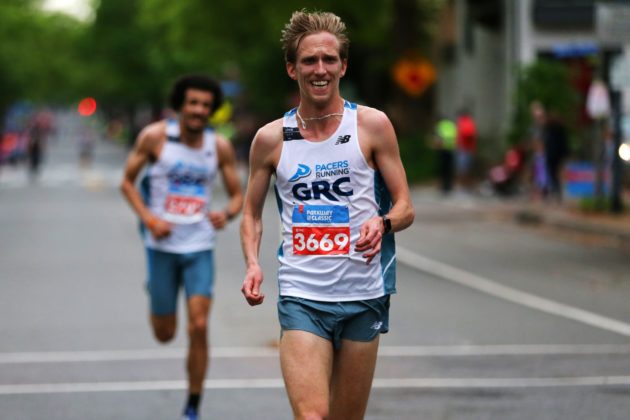 Photo by Swim Bike Run - Brian Knight
In 2019 Dan transformed himself from a recent college graduate with solid but unspectacular track PRs into a national caliber marathoner, and in the process he had arguably the best year in GRC history. Dan got started by anchoring our DMR at the Millrose Games in an excellent 4:09.3, which was a big PR. Dan made a quick transition to the roads, and in his half marathon debut he ran 1:07:33 at DC RNR despite a wrong turn that cost him approximately 20 seconds, and he was second at GW Parkway in his 10 mile debut, running 50:22. After demonstrating the potential to excel on the roads, Dan turned his focus to the marathon. Dan's outstanding 1:04:53 at the Indianapolis Half Marathon, which is second on the GRC all-time list, was proof positive that he was ready to do something special at the full distance, and he did not disappoint. Dan's phenomenal marathon debut of 2:17:38 at CIM qualified him for the Olympic Trials with room to spare, and is third on the GRC list.
Women's Newcomer of the Year--Erin Melly
Erin was a three-time NCAA regional qualifier in the steeplechase during her stellar career at Columbia, and in her first year with GRC she made a successful transition to longer road distances. Among her strong performances, Erin ran 29:15 for 8k at her local turkey trot, 37:11 for 10k on a hilly course at Cow Harbor, and 62:01 in her 10 mile debut at GW Parkway. Erin finished the year with a solid performance at Clubs XC. We'll see much more from Erin in the months and years to come.
Men's Newcomer of the Year--Keith Carlson
During his senior year at Willamette College, Keith lowered his 5000 PR from 15:02 to 14:27. Keith continued that dramatic upward trend this fall despite getting a late start due to injury. Keith made his GRC debut by winning Veterans Day 10k in 31:34, and he ran 14:52 for 5k at a turkey trot in Illinois. Keith saved the best for last by finishing his season with an outstanding 65th place at Clubs XC, which is tied for the seventh best performance in GRC history. With good health in 2020, Keith will be a threat to crack the GRC all-time list in numerous track and road distances.
Nina Brekelmans Award--Zak Miller
Zak earned this award through years of hard work and perseverance. Like Nina, Zak is not the most talented athlete who has run for GRC, but he is one of the most dedicated, and that dedication has produced dramatic results. When Zak joined GRC in 2014, his marathon PR was 2:41:51. Zak chipped away at his PR gradually, and his resolve to improve never waivered despite a series of injuries and several instances of bad (or terrible) weather on race day that hindered his performances. When Zak ran a PR of 2:31:58 at the New Jersey Marathon in April, it was clear that breaking 2:30, a goal which was not even remotely realistic when he joined the team, was within reach. Zak had a great training cycle in his buildup to Chicago, and on race day his years of hard work paid off when he ran an outstanding 2:28:43. Zak is an inspiration to our young marathoners, and he will continue to lead by example going forward.
Lauren Woodall Roady Award--Jesse Carlin
Jesse almost singlehandedly established GRC as a force in the middle distances. Jesse was a two-time All American at Penn, and as a postgraduate she placed third in the 2009 USATF indoor 800. When Jesse joined GRC in 2016, we had a fledgling middle distance program, but the team was almost entirely distance focused. We were able to build our middle distance group around Jesse, and that crew quickly developed into one of the strengths of the team. At Jesse's urging, in 2017 we entered a team in the distance medley at the Millrose Games, and our goal was to make a respectable showing. With the benefit of an excellent 800 leg from Jesse, we exceeded our expectations by winning the race. That victory set the tone for the middle distance group going forward. With the help of Jesse's vocal leadership, the middle distance group has grown in both size and quality. As Jesse continues to pursue excellence on the track, she serves as a wonderful example to our young athletes of what it takes to succeed at the highest levels of the sport.